FROM "OUTSIDER WITHIN" TO "OUTSIDER WITH US"
Palavras-chave:
education, transgender, , black feminism, transfeminism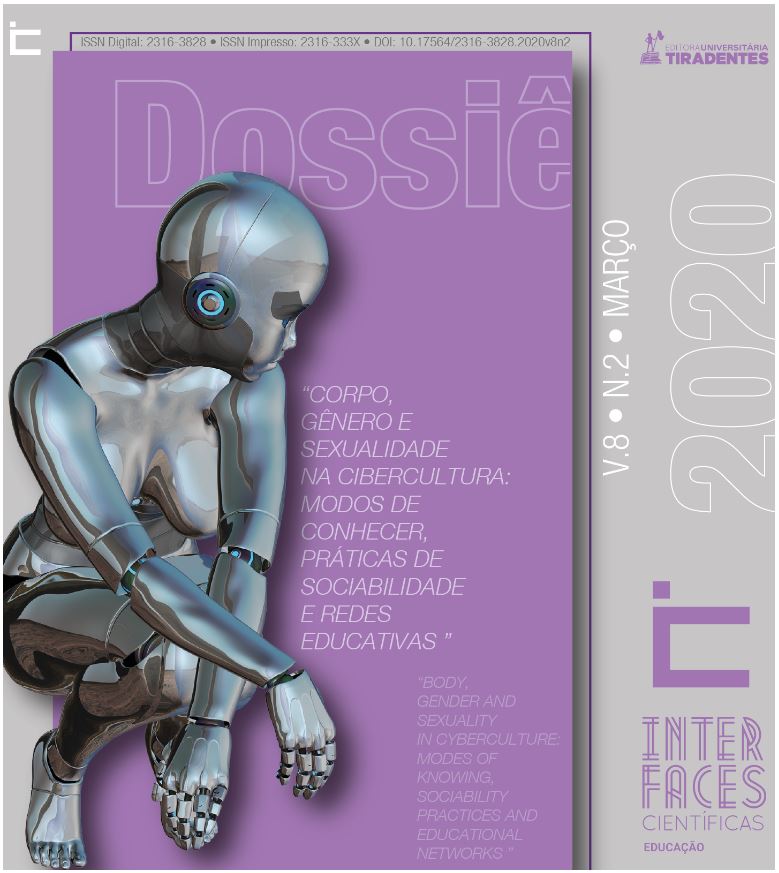 Downloads
Downloads
Não há dados estatísticos.
Licença
A Revista oferece acesso livre e imediato ao seu conteúdo, seguindo o princípio de que disponibilizar gratuitamente o conhecimento científico contribui para a democratização do saber. Assume-se que, ao submeter um artigo, o(a) autor(a) se reconhece como detentor(a) do direito autoral sobre ele e autoriza seu livre uso pelos leitores, podendo ser, além de lido, baixado, copiado, distribuído e impresso.
Resumo
Interview invitation sent to Faye Harrison, in a moment really memorable and very important to me (and my community) as transgender and latin american woman. The audience was primarily the Journal (RE-DOC - UERJ) but for the late insertion, we find another productions of researchers in education interested in race, xenophobia, indentity and interested too in gender studies and also, we try to summarize what the education is talking about, when we talk about you, how you know and felt when you had been here at UERJ. That is something interesting because you are mainly working [in] gender, identity and race. You have around mostly with "outsider within" working here, but still the impact of your work and your earlier work is still connected to your nowadays writings. And now that you are promoting your book "Decolonizing Anthropology: Moving Further toward an Anthropology for Liberation," I think people want to know your opinion about what we are doing here in terms of theory itself that can be connected to education.
Como Citar
Harrison, F. V., & Goncalves Junior, S. . W. P. (2020). FROM "OUTSIDER WITHIN" TO "OUTSIDER WITH US". Interfaces Científicas - Educação, 8(2), 315–353. https://doi.org/10.17564/2316-3828.2020v8n2p315-353
Referências
Theorizing in ex-centric sites. Anthropological Theory 16(2-3) 160-176; DOI: 10.1177/1463499616652516.
Racism in the Academy: Toward a Multi-Methodological Agenda for Anthropological Engagement. In Racism in the Academy: The New Millennium. A CRRA [Commission on Race and Racism in Anthropology] Report. Audrey Smedley and Janis Faye Hutchinson, eds. pp. 13-32. Arlington, VA: American Anthropological Association.
. Decolonizing Anthropology: Moving Further toward an Anthropology for Liberation. (Ed.) Third edition. Arlington, Virginia: American Anthropological Association. (Earlier editions published in 1991 and 1997)
Outsider Within: Reworking Anthropology in the Global Age. Urbana: University of Illinois Press. (Nominated for an Outstanding Book Award from the Gustavus Myer Center for the Study of Bigotry and Human Rights)
Resisting Racism: Global Perspectives on Race, Gender, and Human Rights. (Ed.) Walnut Creek, CA: AltaMira Press.
African-American Pioneers in Anthropology (Co-ed. with Ira E. Harrison). Urbana: University of Illinois Press. (New expanded edition forthcoming)
Three Women, One Struggle: Anthropology, Performance, and Pedagogy.
Transforming Anthropology 1(1):1-9.